Hello!  I am Lisa Christoffel, a freelance copywriter and the founder of Christoffel Copywriting, a direct marketing company.  I live with my husband, three boys, one dog and two cats in beautiful upstate NY.  I relocated to Rochester 25 years ago, but grew up in Pennsylvania, and am a die-hard Nittany Lion and Pittsburgh Steelers fan.
I got my BS degree from Penn State in quantitative business analysis and then my MBA from the Simon School in Rochester in entrepreneurship and finance.
My middle son now attends Penn State, and my husband and I love heading to Beaver Stadium on game days, getting to see my team and our son.  And he loves the free meals he gets when we visit!
My passions in life have always been my family, my career, and education.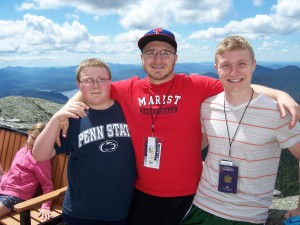 While raising my 3 boys and volunteering in my area to help improve public education, I've also accomplished a few other things:
I led global contact center business operations, managed repair services vendors, and oversaw spare parts businesses for a Fortune 500 global consumer products company for 25 years.
I had 20+ direct reports and hundreds of in-house and outsourced contact center agents and a $40M budget for which I was responsible.
I learned how consumers worldwide made their buying choices, what post-purchase expectations they had, and how to maximize their customer satisfaction.
I led my own PTA units in my kids' schools for many years, holding various officer positions, but most frequently, president.
Currently I lead 80 Parent Teacher Association (PTA) units in 6 counties in upstate New York and sit on the NYS PTA governance team, guiding the units in my region to improve their operations, increase volunteerism, improve their advocacy efforts, and develop new leaders.
I participate on the 9 person school board at my boys' school, the 9th largest district in New York State and on many committees within the district and the county in advocating for public education improvements.
I have always loved getting to know people and what made them tick: our company's customers, my fellow volunteers, and the people who worked for me.  I got the greatest joy in helping them improve their skills and attain their goals.
I think that's what makes my copywriting more impactful:  I take the time to figure out what prospects need and how your product can solve that need for them.
When I switched from a career in service operations to my current career in direct marketing, I spent a considerable amount of time and effort studying and understanding the copywriting business: how to motivate people to take the desired action.  I understand direct marketing and how to deliver copy that improves click rates, increases conversions, and builds your customer base.
Contact me now and I can show you how easy it can be to get your product into more prospects' hands.
"The depth and breadth of her business knowledge is astounding. Her attention to detail is amazing". – Sherri Lise, Experienced Analytical Manager with expertise in Supply Chain Planning, eCommerce and Contact Center Operations
"She produces high quality work. More importantly she always meets her commitments and a good leader or team player that I would always select to be on my team.' – Gene Kinney, NYS PTA Data Specialist